GREAT OPPORTUNITY TO JOIN PRESTIGIOUS ORGANIZATION IN BEIJING
If you're excited about the opportunity to teach in China but nervous about the logistics of moving to a new country, you should consider teaching with Aihua English! Renowned for the wonderful support they provide for their teachers throughout the interview and onboarding process, upon arrival in China and during their entire contract – this is an amazing opportunity to work with a well established and expertly run organization that has been around for over 15 years. Teach in one of their 8 locations in Beijing and explore the amazing city in your free time!
* This has been our most popular program each year from 2016 through 2019, and due to expansion, there will be opportunities for a number of additional teachers to join in August of 2020!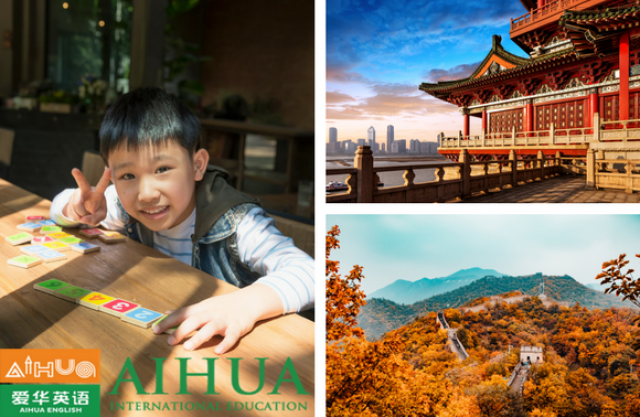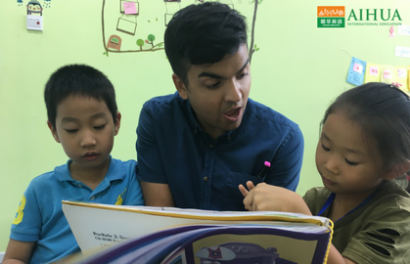 The Job
– Maximum of 100 teaching hours a month (approx. 20 per week)
– 5 days a week (overtime is available but not required)
– You will be supported by local Chinese teachers who will also assist with communicating with parents.
– You will follow Aihua's set curriculum supplemented by an interactive white board and extensive multimedia material.
– Aihua provides unparalleled ongoing support and professional development for their foreign teachers.
(If you're looking for a chance to develop and progress as a teacher this is the job for you!)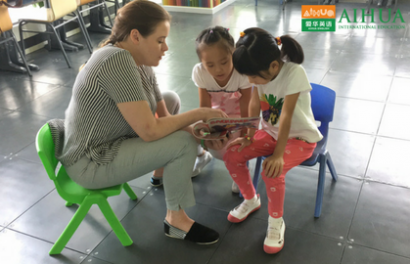 Benefits
– Gross Monthly Salary between 14,000 and 18,000 RMB (and up to 25,000 RMB once you move up to being a manager)
– 2 week teacher training upon arrival with a completion bonus of 5,000 RMB
– Full, legal, working Z visa provided
– Housing is arranged for you
– Flight reimbursement
– Medical Insurance
– Chinese lessons offered
– 2 weeks annual holidays + all Chinese holidays and Christmas (11 days)
– At least 20,000 RMB in additional annual bonuses available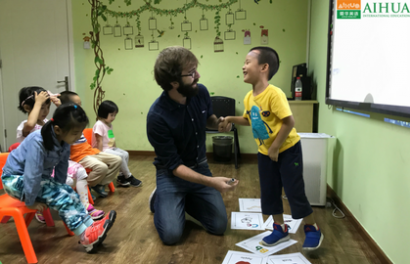 Requirements
– Must be a native English speaker with a passport from the USA, Canada,
UK, Ireland, South Africa, Australia or New Zealand
– Bachelor's degree
– TEFL certified
– 2 years of (post-graduation) work experience – does not have to be teaching related
– Some teaching experience is preferred (but not required)
– A criminal background check is required
Why Aihua? Here's what some Footprints alumni have to say!

"Aihua is a great learning centre, with an open door policy. You can go to any of you supervisors and speak to them about any problems you may have. You have a great working schedule, with a lot of free time, which is great because being a foreigner in a new country you'd like to explore. The teachers you work with are very supportive and help you in the classroom."

"Aihua has been a great place to work. The support from the staff in the centres where you work teaching, and the support from the staff in head office, has been incredible. They are all so friendly, and want to ensure you have as smooth a time doing things as possible. The staff in the centres (especially the CTs [Chinese Teachers]) are always keen to help you get things done, from going to the chemist, to finding new and interesting places to go, through to helping you organise trips and ordering food through your phone. They have been an incredible bunch of people to work with, and have made life here the most amazing experience! I can't really speak about other schools directly, but I do know from friends who have gone on to other schools that the number of hours vs. free time, out of work hours is better at Aihua. At Aihua, we teach for no more than 25 hours per week (a standard across the country for all foreign teachers), but the other 15 hours per week are ours to do with as we wish. I do not have to log 'office hours' for the remaining 15 hours to make a 40 hour working week…I make more than enough to live off, and have money going home every month as savings, and can still live a very good life here. And the best part is, I have the time to enjoy that better life."
Or listen to some Aihua teachers talk about their experiences!